Reading Time:
7
minutes
Billings
Fri, 11 Oct 2019, 08:00 AM – Fri, 11 Oct 2019, 05:00 PM | Big Horn Resort, an Ascend Hotel Collection Member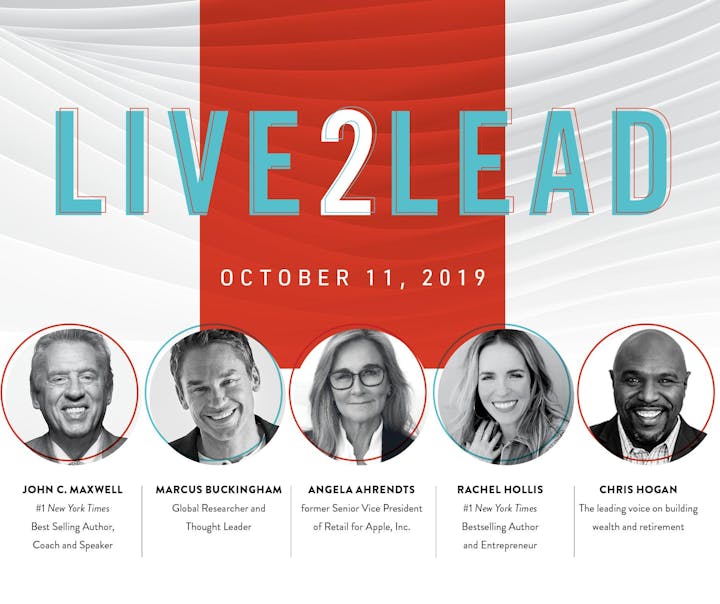 Description:
LIVE2LEAD Billings is a full-day, leader development experience designed to equip attendees with new perspectives, practical tools and key takeaways. They'll learn from world-class leadership experts, be prepared to implement a new action plan, and start leading when they get back to the office with renewed passion and commitment.
Speaker that will appear via Simulcast:
JOHN C. MAXWELL, the #1 New York Times bestselling author, coach, and speaker who has sold more than 30 million books, has been identified as the #1 leader in business by the American Management Association® and the world's most influential leadership expert by Business Insider and Inc. magazine. Dr. Maxwell has also received the Horatio Alger Award, as well as the Mother Teresa Prize for Global Peace and Leadership from the Luminary Leadership Network. His organizations—The John Maxwell Company, The John Maxwell Team, EQUIP, and the John Maxwell Leadership Foundation—have trained millions of leaders from every nation in the world.
RACHEL HOLLIS is a #1 New York Times & #1 USA Today Bestselling Author, a top business podcaster and one of the most sought-after motivational speakers in the world. As a bestselling author and wildly successful lifestyle influencer she has built a global social media fanbase in the millions. Known as "the Tony Robbins for women" because of her motivational, high energy style and her unique ability to empower and embolden a female audience. She's a proud working mama of four and a big fan of the small town in Texas hill country that the Hollis family calls home.
ANGELA AHRENDTS was most recently Senior Vice President of Apple Retail based in Cupertino, CA.During her five years she integrated Apple's physical and digital businesses to create a seamless customer journey for over a billion visitors a year. Before her transition to Apple, Angela served at Burberry as Chief Executive Officer for nearly nine years where her leadership focus on culture, values and positive energy resulted in tripling the business and quadrupling the share price. Angela has consistently been recognized by Forbes, Fortune and the BBC as a Top 100 Global Executive and is currently a member of the Board of Directors of Ralph Lauren Corp. and Airbnb, and a Well Member with charity: water.
MARCUS BUCKINGHAM is a global researcher and thought leader focused on unlocking strengths, increasing performance and pioneering the future of how people work. Building on nearly two decades of experience as a Senior Researcher at Gallup Organization, he currently guides the vision of ADP Research Institute as Head of People.
CHRIS HOGAN is the #1 national best-selling author of Everyday Millionaire and Retire Inspired: It's Not an Age. It's a Financial Number. For over a decade, Hogan has served at Ramsey Solutions, spreading a message of hope and financial peace across the country as a financial coach and Ramsey Personality. Hogan helps people plan for their future and reach their retirement goals through his Retire Inspired Podcast and live speaking events.
After the Speakers there will be a catered lunch. Then a panel of community leaders will host a QA session on what was discussed during speaker slots.
There will be some exercises that focus on team building and coaching presented by Justin the host of the event.
Happy Hour to finish off a Friday afternoon.
This event will also be held in Helena, MT. More info.
Bozeman
Thu, October 10, 2019 – 5:30 PM – 7:30 PM MDT | Regus Downtown Bozeman 5 W Mendenhall St #202 Bozeman, MT 59715
Description:
The LinkedIn Local Bozeman Area meetup group is an opportunity to meet our regional LinkedIn connections face-to-face, and to strengthen the online relationships we form by getting to know the person behind the profile.
The October meetup is co-hosted by Mallory Thompson and Randall Russo. Wine and appetizers will be served; any funds remaining after expenses are covered will be donated to Gallatin Valley Farm to School. This is a not-for-profit event.
Guest speaker Katie Smith parlays her background as a backcountry wilderness guide to guide business owners, entrepreneurs, and teams through the wilderness of marketing. She will share some of her tips for creating a strong marketing strategy.
Join the #LinkedInLocal Movement!
LinkedIn Local events are organic meetups of LinkedIn members that provide an opportunity to network, build community, share best practices for using LinkedIn, and discuss the latest industry trends.
These events are not officially hosted or sponsored by LinkedIn. Instead, these meetups are organized by members and are encouraged and supported by LinkedIn, who sees these events as great examples of how members can build their professional community on LinkedIn.
The first #LinkedInLocal meetup was hosted in 2017 by Anna McAfee in Coffs Harbour, Australia. Now, LinkedIn Local has become a movement in comunities large and small, all over the world. Learn more here.
Why should you come?
To meet people for no other reason than to get to know them, and let them get to know you, and ultimately expand your social- and professional circles with like-minded people.
Great Falls
October 2 @ 5:30 pm – 7:30 pm | Great Falls Civic Center
Description:
What's a Charrette, your might ask? Think of it as a high-energy brainstorming session.
Great Falls Development Authority have identified blocks in downtown Great Falls that they believe have the most untapped potential. But what they become, that's what YOU get to decide.
Join Neighbors, Developers, Property Owners, Resource Providers, and more on Wednesday, October 2nd for a visioning session on what we hope our downtown can be! They will focus efforts on blocks that are ready to transform!
Pizza and non-alcoholic beverages will be provided. Please RSVP so they know how much to bring!
RSVP here -> https://conta.cc/2kQfdYX
Helena
Thu Oct 17 2019 at 06:00 pm | Lewis & Clark County Fairgrounds
Description
Montana Business Assistance Connection is calling all entrepreneurs! Do you have an idea for a startup, have you just launched a business, or are you a seasoned entrepreneur? Come join them at the 2019 Accelerated Startups: Demo Night on Thursday, October 17, 2019 from 6-9 PM in the Lewis & Clark County Fairgrounds Entry Hall.
Last year, MBAC launched its first startup incubator program, Accelerated Startups. Their model is goal-driven, focusing on accountability, resources, education, and support to make startup ideas and growth a reality. The program builds to this Demo Night, when participants have the opportunity to introduce their business to the community and potential investors.
In addition to meeting the 2019 Accelerated Startups program graduates, come learn more about the resources available to startups in Helena.
This event is FREE and open to the public. Hors d'oeuvres and a no-host bar will be available.
Kalispell
There are 12 MFG Day events planned in Kalispell through October 2019.
Description:
Held annually on the first Friday in October, Manufacturing Day helps show the reality of modern manufacturing careers by encouraging thousands of companies and educational institutions around the nation to open their doors to students, parents, teachers and community leaders.
THE MANUFACTURING DAY MISSION
Manufacturing Day addresses common misperceptions about manufacturing by giving manufacturers an opportunity to open their doors and show, in a coordinated effort, what manufacturing is — and what it isn't. By working together during and after MFG DAY, manufacturers will begin to address the skilled labor shortage they face, connect with future generations, take charge of the public image of manufacturing, and ensure the ongoing prosperity of the whole industry.
MFG DAY is designed to amplify the voice of individual manufacturers and coordinate a collective chorus of manufacturers with common concerns and challenges. The rallying point for a growing mass movement, MFG DAY empowers manufacturers to come together to address their collective challenges so they can help their communities and future generations thrive.
Learn more about manufacturing day here.
Find events in your state here.

Missoula
Wed, Oct 9, 4:30 PM | Hilton Garden Inn Missoula
Description:

The Missoula Area Chamber of Commerce Ambassadors are pleased to announce their featured speaker for the 2019 Annual Banquet on Wednesday, October 9th as top business and motivational speaker, founder and CEO of FUBU Clothing, Shark Tank Reality TV Judge and Best Selling Author, Daymond John!
Daymond teaches audience members how to apply his successful methods to a wide range of businesses today. He shares winning tips for negotiating and negotiating for women, boosting sales, improving employee morale, increasing productivity, and optimizing staff talents. Daymond's pragmatic advice resonates with everyone from students and entry-level employees to small business owners and corporate CEOs. Each will walk away with invaluable tools to incorporate into their professional endeavors.
As a motivational speaker, Daymond's quintessential rags-to-riches success story of sacrifice, hard work, and perseverance as well as the unique and charismatic way he communicates it, will inspire any audience. Much more than a business advisor, Daymond shares his unique goal setting and achieving strategies, which will empower audience members to make positive changes in every aspect of their lives for immediate and long-term success. "The Shark" Daymond John, will reveal how you too can live the American Dream.
Get tickets here.